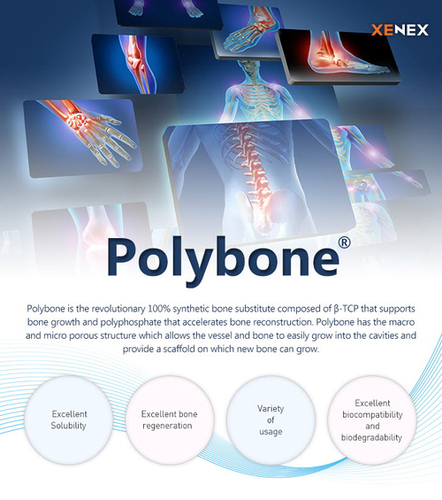 Polybone Bone Substitute
Product Code : XEN_17112708
9999 USD ($)
Price And Quantity
Minimum Order Quantity

:

10
Unit of Measure

:

Carton/Cartons
Product Description
We are a well-established firm that has made its presence in the industry, by manufacturing and supplying Polybone Bone Substitute. It is a 100% synthetic bone substitute, composed of B-TCP that supports bone growth and polyphosphate that accelerates bone reconstruction. Polybone has the macro and micro porous structure, allows the vessel and bone to easily grow into the cavities and provide a scaffold on which new bone can grow. We offer this Polybone Bone Substitute at cost effective prices to clients.
Features:

Fast bone reconstruction and regeneration

Excellent bio compatibility and biodegradability

Ideal hardening time and no exothermic reaction
Contents
PolyBone is Beta-tricalciurn phosphate based bone substitute.
Polybone powder type consists of powder and liquid components. When powder and liquid are
mixed together, crystal structure is formed by chemical reaction.
Polybone granule type and block type are thermally formed interconnected porous structure which
is a mixture of B-TCP and polyphosphate.
Effects
PolyBone's bone formation mechanism is promoted by polyphosphate ingredient which activates
BMP and accelerates bone regeneration, This mechanism will achieve the best results in variety of
surgeries involving bone fracture, craniofacial surgery, spine plasty, oral surgery, etc.
Features
B-TCP based bone reconstruction and substitute material
Fast bone reconstruction and regeneration

Excellent bio compatibility and biodegradability

Interconnected macro and micro porous structure provides better osteogenesis
Various product types and Sizes: powder, granule, and block type
Ideal hardening time (less than 5mins) and no exothermic reaction
Contact Us
802, Gieopdosiro, Jijeong-Myeon, Wonju City, Kangwon-Do, Korea, Wonju, Gangwon-do, 26354, Korea South
Phone :82-70-70047774