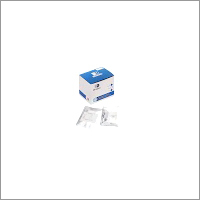 Radiopaque Marker
Product Code : 01
Product Description
Radiopaque Markers for colon transit time test
Radiopaque Markerwith 3D marking technology is used to diagnose and treat gastro intestinal ailments like bowel disorders, acute constipation and hypomotility. This type of therapeutic procedure is cost effective and reliable. The presence of this marker inside digestive tract can be noticed through X ray process. Accessible in different shapes like ring, ball and square, the number of this market inside gelatin capsules depend on the pattern of different models. We are a prestigious manufacturer and supplier of excellent grade Radiopaque Marker.
3D marks is rediopaque markers for measuring colon transit time and are used to diagnose patients with bowel dysfunction due to abnormal bowel movements.
The measurement of colon transit time using the radiopaque marker is performed after a certain period of time after taking capsules filled with radiopaque makers, by examining the number of radiography to determine the cause of the constipation symptom
3D marks provide a unique colonic transit diagnostic test that is a simple, reliable and affordable method to diagnosis many gastrointestinal(GI) conditions,
such as
Constipation
Colonic Inertia
Functional Outlet Obstruction
Irritable Bowel Syndrome( IBS)
Bowel Obstruction
Hypomotility
The colon transit time using a radiopaque marker is done by taking a 3-day interval every 24 hours from the first dose and measure remaining markers by radiography between 4 and 7 days.
Order number


Model

Number of markers inside a gelatin capsule

Marker shape

S20*

20

Square

S22

22

S24

24

B20*

20

Ball

B22

22

B24

24

R20*

20

Ring

R22

22

R24

24
Contact Us
802, Gieopdosiro, Jijeong-Myeon, Wonju City, Kangwon-Do, Korea, Wonju, Gangwon-do, 26354, Korea South
Phone :82-70-70047774